Let us take care of your smile
Aquidneck Island's Top Rated Dental Office serving Middletown, Portsmouth, and Newport.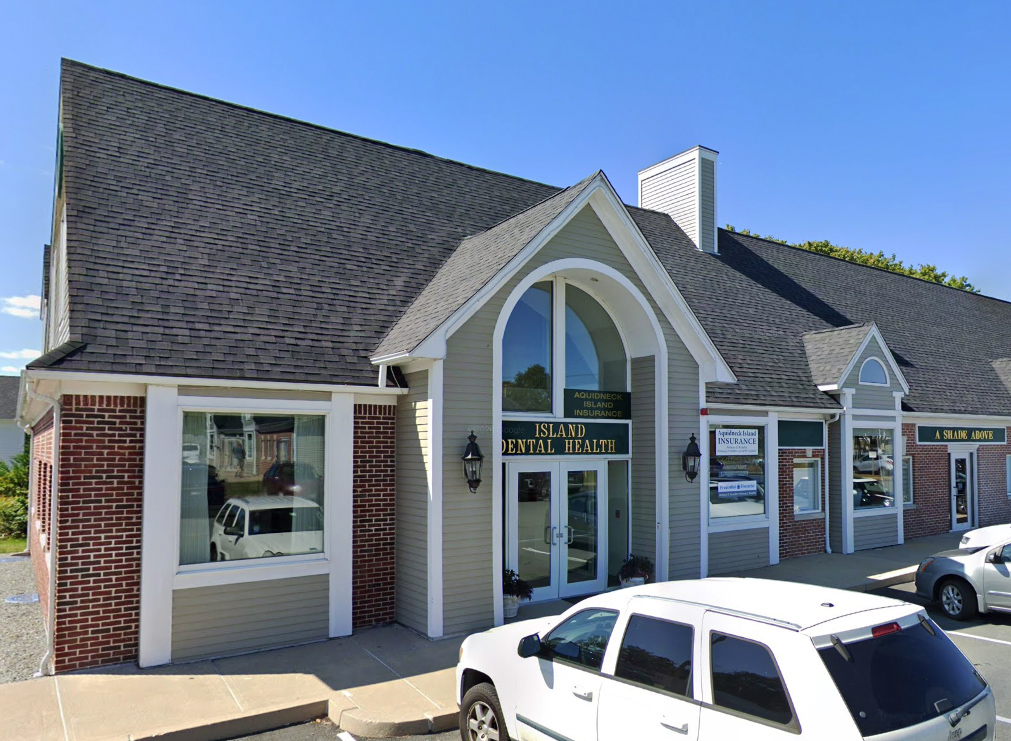 Providing Dental Care in the Following Areas
Dr. Faiella and her team at Island Dental Health believe that having a beautiful, healthy smile is incredibly important for your self-confidence, overall well-being and happiness. We take pride in exceptional service and utilize the most technologically advanced equipment and knowledge available to date to provide you with the best possible care. Our primary goal is to provide you with an extraordinary experience, alleviating your fears and concerns, and helping to give you the smile you have always desired! Whether that means spending extra time educating you about your options or reviewing your individual goals; we only want to make you healthy, happy, and to give you a reason to SMILE!
We offer many cosmetic procedures such as porcelain veneers, teeth whitening, Invisalign, composite fillings, and Pediatric Dentistry. During your new patient consultation, Dr. Faiella will work with you to develop a treatment plan that fits your unique needs.

If you want your teeth to be "pearly whites" again, your best bet is to talk to Dr. Faiella about teeth whitening.

Gradually shift your teeth into the beautiful smile you've always wanted without trying to hide a mouthful of metal!

Provide added tooth support – they're made with a substance that chemically bonds to the tooth structure.

Dental implants are a permanent, comfortable, and natural-looking alternative to your own natural teeth.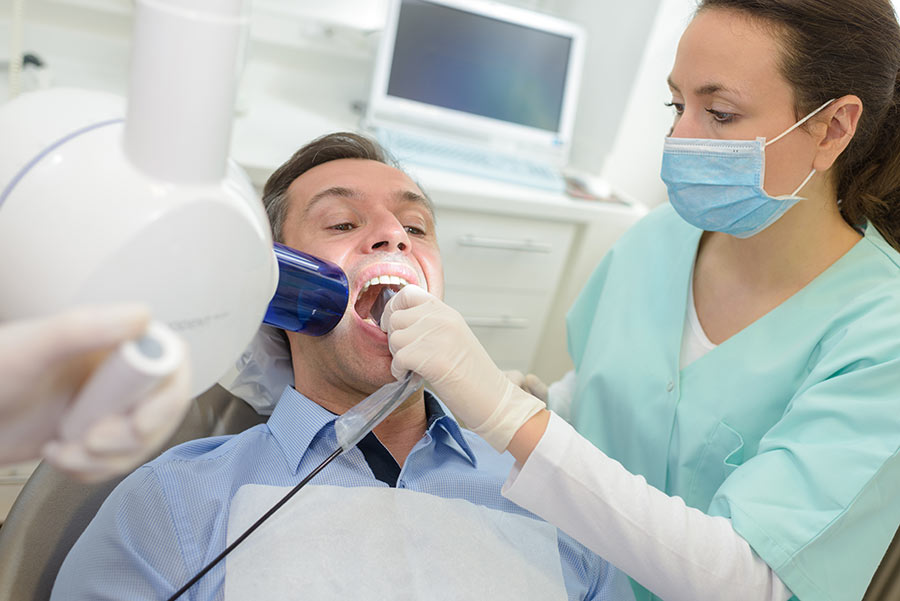 A Higher Standard of Dental Care
Our mission is to provide our patients with guidance towards wellness and optimum oral health. We will strive to raise their level of awareness of the role good oral hygiene plays in the overall well-being of the individual for life. We promise to continually pursue excellence through advanced education, team growth, and mastery of leading edge technology. 
Roxalene E W.
★★★★★
I have nothing to say but praise for Island Dental. Five star on every level!
Nancy61
★★★★★
Fantastic staff! Thorough. Kind. Very sensitive to my anxiety (anything dental).
Monica S.
★★★★★
Top notch!!! In, out and done so fast. Called last night, left a message for an appointment and they took me in the next day. ❤️
Peter M.
★★★★★
We just moved to Newport and I needed an emergency appointment due to a problem with one of my molars. Island Dental Health was accepting me as new patient right away and offered me an appointment . Dr. Ashley Faiella and her staff are outstanding, super friendly , patient focused, professional and accommodating . For sure my very best experience with a dentist office ever on a local and global basis. My sincere thanks to Dr Faiella, Kate and Erin ! They truly make the difference !
David B.
★★★★★
What a fantastic group of people! I have dentophobia and have avoided the dentist for nearly fifteen years, but brushing and flossing alone simply aren't enough.A friendly and compassionate person took my initial call to Island Dental Health. The office is sunny, spotless, and welcoming. I was greeted with a smile and offered a tablet to complete the standard patient questionnaires and authorization forms.Ashley, the dental hygienist, worked like lightning while carrying on a calm, casual conversation. She was friendly despite having a crushing headache and was sensitive to my anxiety, asking several times if I needed a break. I appreciated her taking the time to highlight issues on the digital X-rays and answer random questions.Dr. Faeilla was friendly and calming and took the time to review the issues and treatment plans.I'm grateful for the care I received at Island Dental Health!
Robin S.
★★★★★
Everyone was very kind and professional. So pleased I chose Island Dental. Would highly recommend!
Chelsea S.
★★★★★
Just Walking into the office feels welcoming and comfortable . The ladies are friendly and personable. They're gentle on the mouth , thorough, and quick.I'm very satisfied with my experience and would recommend to anyone!
Elizabeth S.
★★★★★
Had a wonderful experince with my teeth cleaning. Veronia was experienced and kind. I will be going back
christie-Jo S.
★★★★★
I really appreciated Dr. Faiella and the rest of the staff at Island Dental. They were all very kind and gentle when working with me.
Jacob T.
★★★★★
Knowledgeable, kind, and kept me well informed through the entire process
Gail G.
★★★★★
Ashley the dental hygienist is very friendly, professional and thorough. Island Dental Health is a beautiful office and the staff is excellent. Always a pleasant experience.
Emily M. Randolph Fine A.
★★★★★
Excellent service with a smile! Sarah is a fantastic hygienist.
Jim O.
★★★★★
Five stars is not enough. Personal and professional attention. Appointments kept on schedule no waiting. Never feel rushed.
karen M.
★★★★★
My dental care is excellent. I like everyone a lot. They're respectful, kind and professional.
joseph S.
★★★★★
I was taken in promptly. The dental hygienist was pleasant and engaging. She addressed my concerns. My cleaning seems like a good job. She was also concerned for my comfort. The dentist was also very nice.
jeff T.
★★★★★
Island Dental Health always takes great care of my teeth
natasha S.
★★★★★
Went in because I chipped a molar and the team was swift and kind. Repaired my tooth, zero pain and I left within 30 minutes feeling good as new. Thank you!
Bill R
★★★★★
Thank you for everything!!
Amanda S.
★★★★★
Dr. Ashley is by far the best of the best. She is kind and gentle and answers all of your questions. I could not be happier with her as ny dentist. 🤍🤍🤍
jamie M.
★★★★★
The team that works there are awesome! They are very professional and thorough with the cleanings and exams. Martha is the best receptionist! Very professional and efficient!
Susan P.
★★★★★
Great service with super nice staff. I've never had to wait and have been very pleased with their work.
J W
★★★★★
Wonderful staff, Ashley the hygienist was very gentle and thorough, super informative, and super sweet. The Doctor was very kind.and explained what my options were with no pressure, will work with you on a care plan and seem very supportive. Very pretty office. Beautifully decorated and bright, an all around pleasure. So glad to be part of Island Dental Health!!!!?
Kim S.
★★★★★
Very happy with my visit. It was an emergency repair while on vacation. Highly recommend...
Do You Have any Questions?
We want to answer any questions you might have about your oral care or upcoming dental visit. Please contact us if you cannot find an answer to your question on our website.

Island Dental Offers the following services to assist with your Insurance and financing needs.
Everyone Deserves to have a Healthy Smile